Even though this is our first blog post, I am going to talk to you like I have been talking to you for months. So, let's jump right into it.

This was our first test photoshoot with the modeling agency, Aston Models. Our model for this shoot is Dylan.

We decided that we were going for a rugged forest ranger look, but with fashion feel to it.

To accomplish this, we first started out with creating our mood board. For me, when I compile picture for a mood board, I use Pinterest to begin. I type in keywords for photographs that I am looking for to set the mood, feel, location, and clothing.

For this shoot, we were interested in a color that would make him part of the environment. I ended up searching mostly desert, and male fashion photoshoots on pinterest to compile a mood board that I thought would be suitable.

Oftentimes, I will find one picture that leads to a set from another photographer. With that, I compile the mood board, but when we actually accomplish shoot it is not meant to copy the other photographer. It is just to help set the mood, color, and tone of what we would be looking for.

Posing, clothing, and location are all dependent on what we are looking for this.

Next, we had to decide on the location. We thought, our best bet would be at Malibu Creek State Park, in Calabasas California. After, determining location next is to figure out the outfit/clothing for the photoshoot.

We picked the clothing, based off of his measurements, and we thought would be fashion forward and accentuate his features. I often, use Amazon or go to different stores such as HM and Forever21. Also, sometimes I stop at vintage and thrift stores in the Los Angeles area.


And, then after that we moved on to finding a makeup artist. Mostly, I was looking for a makeup artist that had experience working with male models, and doing a male model grooming. We ended up with a great find, and Aryanna was wonderful to work with!
The day of the shoot is always exciting! We had an early morning, and driving over we had great weather. And, we got started early. Makeup was done great, and the outfit looked and fit great on the model.

We shot in many different spots, and locations at the park. We tried three different areas, and accomplished many different looks including portraits. The camera that was used during the shoot is a Canon 5Ds, which produce stunning files (giant ones!). Since we wanted a very contrasty look to the final images we decided to only use a silver reflector to right and left of camera for most of the images. As of recently, we opted for only shooting tethered. It helps us deciding if the exposure is correct straight out of camera and aids in workflow as far as composition and angles.

The shoot wrapped smoothly, and overall it was a great success!

After shoots is always fun, getting to select and edit the picture you find that are the best. I spend a majority of the time, going through the photographs and deciding which ones are my favorites, and which ones to edit. I chose about seven photographs for this shoot to make a set.
When deciding on which photographs to choose, -insert photo knowledge here jairo-. But, I also look for other factors including facial expressions, how the pose looks, how the background is. Little details, can make a photograph stand out more.
Also, because we were working with a modeling agency. We, delivered the photographs to the agent we were working with, and he made his selections and we edited those photographs for him. For optimized image performance, we process our photos to be 1000x1000 for website purposes; we also do a duplicate that is 4000x4000 just in case we need them for print or publications, etc. We recommend using Amazon Cloud drive to store all of your photos since it is unlimited (if you're a Prime Member).

And then we get into editing and retouching which is always fun!
Most of our editing gets done over Photoshop. The way we chose to do the color part of editing was using the Gradient Map adjustment layer and swatches to achieve a cohesive color palette. The retouching got done using High Frequency Separation, a advance way to achieve a natural, yet very nice look. More on those two subjects later!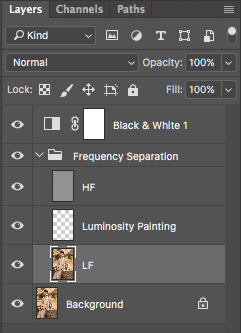 Overall it was a great shoot!
Here is a Before/After along with EXIF data!
Final edits and full gallery!